Disorders of the jaw joint and chewing muscles—and how people respond to them—vary widely. Researchers generally agree that the conditions fall into three main categories:
Myofascial pain involves discomfort or pain in the muscles that control jaw function.
Internal derangement of the joint involves a displaced disc, dislocated jaw, or injury to the condyle.
Arthritis refers to a group of degenerative/inflammatory joint disorders that can affect the temporomandibular joint.
Rheumatic disease, such as arthritis, may also affect the temporomandibular joint as a secondary condition. Rheumatic diseases refer to a large group of disorders that cause pain, inflammation, and stiffness in the joints, muscles, and bone. Arthritis and some TMJ disorders involve inflammation of the tissues that line the joints. The exact relationship between these conditions is not known.
A person may have one or more of these conditions at the same time. Some people have other health problems that co-exist with TMJ disorders, such as chronic fatigue syndrome, sleep disturbances, or fibromyalgia, a painful condition that affects muscles and other soft tissues throughout the body. These disorders share some common symptoms, which suggests that they may share similar underlying mechanisms of disease. However, it is not known whether they have a common cause.
How jaw joint and muscle disorders progress is not clear. Symptoms worsen and ease over time, but what causes these changes is not known. Most people have relatively mild forms of the disorder. Their symptoms improve significantly, or disappear spontaneously, within weeks or months. For others, the condition causes long-term, persistent and debilitating pain.
What Are the Signs and Symptoms of TMJ Disorders
A variety of symptoms may be linked to TMJ disorders. Pain, particularly in the chewing muscles and/or jaw joint, is the most common symptom.
Other likely symptoms include:
Radiating pain in the face, jaw, or neck, jaw muscle stiffness,
Limited movement or locking of the jaw,
Painful clicking, popping, or grating in the jaw joint when opening or closing the mouth, a change in the way the upper and lower teeth fit together.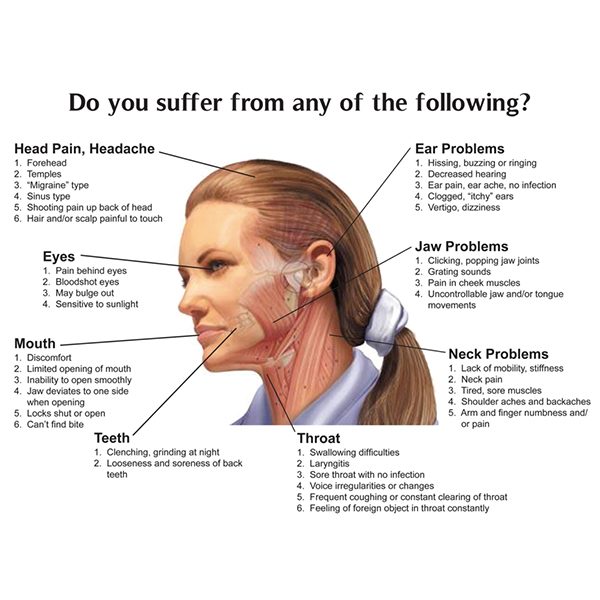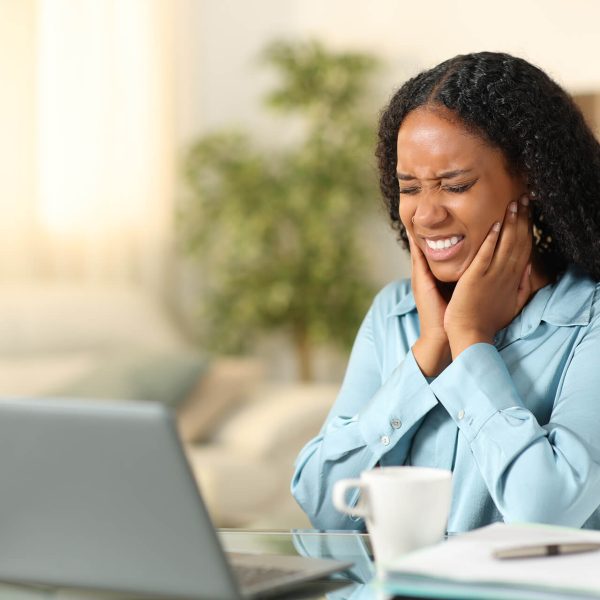 How Are TMJ Disorders Treated
Because more studies are needed on the safety and effectiveness of most treatments for jaw joint and muscle disorders, experts strongly recommend first using the most conservative, reversible treatments possible. Conservative treatments do not invade the tissues of the face, jaw, or joint, or involve surgery. Reversible treatments do not cause permanent changes in the structure or position of the jaw or teeth. Even when TMJ disorders have become persistent, most patients still do not need aggressive types of treatment.  
Because the most common jaw joint and muscle problems are temporary and do not get worse, simple treatment may be all that is necessary to relieve discomfort. 
There are steps you can take that may be helpful in easing symptoms, such as:
Eating soft foods
Applying ice packs
Avoiding extreme jaw movements (such as wide yawning, loud singing, and gum chewing)
Learning techniques for relaxing and reducing stress, practicing gentle jaw stretching, and relaxing exercises that may help increase jaw movement. Your health care provider or a physical therapist can recommend exercises if appropriate for your particular condition.
For many people with TMJ disorders, short-term use of over-the-counter pain medicines or nonsteroidal anti-inflammatory drugs (NSAIDs), such as ibuprofen, may provide temporary relief from jaw discomfort. When necessary, your orthodontist can prescribe stronger pain or anti-inflammatory medications, muscle relaxants, or anti-depressants to help ease symptoms. 
Stabilization Splints
Your orthodontist may recommend an oral appliance, also called a stabilization splint or bite guard, which is a plastic guard that fits over the upper or lower teeth. Stabilization splints are the most widely used treatments for TMJ disorders. If a splint causes or increases pain, or affects your bite, stop using it and see your health care provider.
The conservative, reversible treatments described are useful for temporary relief of pain – they are not cures for TMJ disorders. If symptoms continue over time, come back often, or worsen, tell your orthodontist. Other treatments may be needed in conjunction with a splint. 
Botox® (botulinum toxin type A) is a neurotoxin protein that is used to relax facial muscles. Used in small doses, Botox injections can actually help alleviate some health problems and have been approved by the Food and Drug Administration (FDA) for certain disorders.
By using this protein to target the muscles that cause TMJ, we are able to relax the musculature and provide relief in certain circumstances. Call us today if you would like to find out more about this modern treatment for TMJ or fill out a contact form and we will call you. 
3 Amazing Locations in Charleston, Summerville and Goose Creek
We are committed to providing the highest quality of comprehensive dentistry possible. Your oral health, smile and comfort are our top priorities. Call today to make your appointment with one of our experienced dentists and learn more about dental care.
216 Myers Rd
Summerville, SC 29445 
Tuesday
8:00 AM – 5:00 PM
Wednesday
8:00 AM – 5:00 PM
Thursday
8:00 AM – 5:00 PM
953 Orangeburg Rd, Suite A
Summerville, SC 29483 
Tuesday
7:00 AM – 2:00 PM
Wednesday
12:00 PM – 7:00 PM
Thursday
8:00 AM – 5:00 PM
8626 Dorchester Rd, Suite 102
North Charleston, SC 29420
Tuesday
8:00 AM – 5:00 PM
Wednesday
7:00 AM – 4:00 PM
Thursday
7:00 AM – 4:00 PM
The Proof is in Our Patients
We LOVE Acuity! We have been using them for 6 years now between our three children and ourselves. All of the staff is amazing however Courtney is my children's favorite!! Thank y'all for all you do!
I love the friendly atmosphere the faculty is absolutely outstanding. When I enter this place on Myers Rd.when you walk in Kristina on the front desk is so sweet. Nicole always makes you feel so welcomed and eases your nerves. Dr. Andrew is the bomb dentist so friendly. Today was the first day Kevin assisted Dr. Andrews he was excellent at his job very polite. They make you feel right at home
My family loves this practice. Everyone is so welcoming and kind. My oldest has just started braces, and Jessica was so incredible while walking us through the whole process. The entire staff is amazing. Highly recommend this practice for anyone looking for a dental and orthodontic practice that cares about you as a patient and a person.
I've been on my ortho path for almost a year with invisalign and it has been nothing but GREAT care from the beginning. everyone has made me feel so comfortable and always keeps me very informed throughout the process and my appointments.10/10 recommend!!
10/10- Been going here for the 5+ years weve lived in the area! I go every six months for cleaning and recently started with invisalign on the orthodontics side. Everyone from the front office reception to the techs to the doctors are really kind and helpful. Special shout out to Haley (dental side) and Katie (ortho side) who were extra helpful in my most recent visits!
Kelliann M.
North Charleston
I absolutely loved my Invisalign consultation with Jessica! She made me super comfortable and answered all my questions. She was amazing at explaining my treatment plan and going over financial options! I recommend Acuity Orthodontics to anyone that is interested in Invisalign!