Endodontics & Oral Surgery
Comprehensive Dental Services
Acuity Dental provides comprehensive dental services for the entire family. Our endodontics and oral and maxillofacial team is qualified to perform procedures in-house so you do not have to wait to see a specialist. Services include root canals and tooth extractions. 
Wisdom Teeth and Simple Tooth Extractions
Acuity Dental provides comprehensive dental services for the entire family, including tooth extraction. Our dentists and oral surgeons can perform extractions in a painless, low-stress environment.
Wisdom teeth are not needed and can cause issues, especially when there is not enough room in the mouth. Extraction of wisdom teeth is often recommended to prevent future dental problems. We also provide both oral and IV sedation for dental extractions and treatment.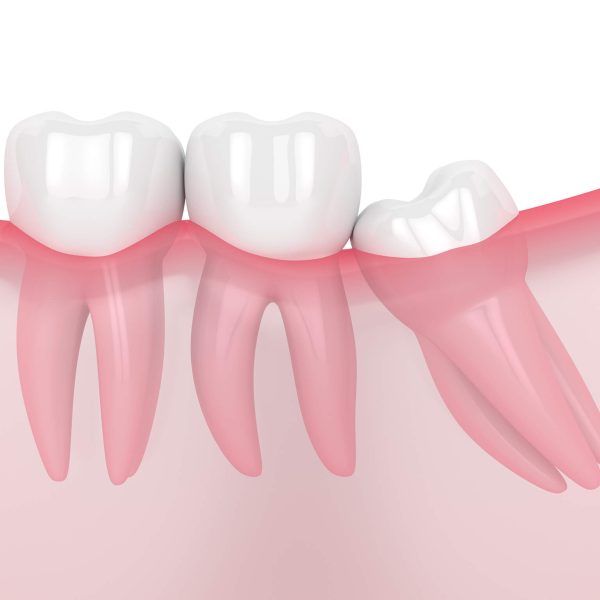 What are simple tooth extractions?
Simple tooth extractions are performed when a visible tooth is surgically removed from your mouth. Reasons for simple tooth extractions include:
Diseased teeth that are not savable by deep cleanings.
Some fractured teeth.
Teeth that need to be pulled for orthodontics or dental implants.
Supernumerary teeth, or an extra tooth that develops during childhood. 
What are surgical tooth extractions?
Surgical tooth extractions involve removing a tooth that has not yet erupted or is still under the gum tissue. Reasons for surgical tooth extraction include:
Impacted wisdom teeth that are painful.
An unerupted supernumerary tooth.
A tooth partially below the gumline. This can be the result of a tooth fracture.
Do I have to be put to sleep for my tooth extraction?
We perform tooth extraction both while "awake" and under sedation. Our options include:
Local anesthesia. Our doctor delivers this directly to the site of the tooth.
Nitrous oxide, or laughing gas.
Twilight anesthesia. Our doctor delivers this through oral sedation. This consists of medications taken right before your appointment to relax you and make you forget the procedure even happened.
We have dentists trained in IV sedation to provide you with a painless surgical experience.
Depending on the type of anesthesia you choose, you may need someone to drive you home after the procedure. Our doctors can tell you which may be the best option for your situation.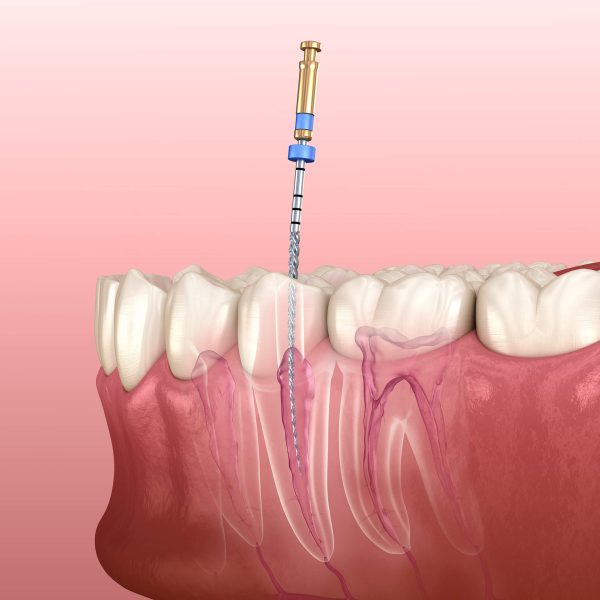 Acuity Dental provides comprehensive root canal services for the entire family.

Our endodontics and dental team is qualified to perform procedures in-house so you do not have to wait to be referred to another office resulting in increased pain associated with delayed treatment. 
What is root canal treatment?
When issues arise with the pulp and root of a tooth, then root canal treatment may be necessary to save the tooth and relieve dental pain. A root canal may be needed when there is significant decay, when a tooth breaks, or when a traumatic dental injury occurs.
During root canal treatment, our dental specialists will carefully remove the pulp inside the tooth, disinfect and shape the root canal, and place a sedative filling inside the tooth.
Will root canal treatment get rid of my dental pain?
Yes, often root canal treatment will relieve your dental pain altogether. Sometimes, if the tooth is cracked, this may result in a tooth that is not savable and needs to be extracted. If this is the case, we can talk to you about replacing your tooth with a dental implant, which is also performed by our dentists in-house.
What are common symptoms that warrant root canal treatment?
Tooth Pain
Tooth pain is not always a serious problem unless the sensitivity remains for a long period of time. It may be caused by minor decay, or gum recession that exposes the root. If you are experiencing pain, it's important to see one of our dentists as soon as possible.


Cracked Teeth
Cracked teeth can exhibit erratic pain when you chew foods to sudden pain when your tooth is exposed to hot or cold. It is important to address cracked teeth as soon as possible, as a dental crown may be needed and can sometimes prevent more costly treatment.


Abscessed Teeth
If your mouth or jaw is aching, this is often the sign that a more serious infection lies underneath the tooth and gum. When the nerve of a tooth dies, it forms an abscess around the tooth. Sometimes antibiotics are needed to get rid of the abscess, but it will reform if the underlying dying nerve is not removed.
3 Amazing Locations in Charleston, Summerville and Goose Creek
We are committed to providing the highest quality of comprehensive dentistry possible. Your oral health, smile and comfort are our top priorities. Call today to make your appointment with one of our experienced dentists and learn more about dental care.
216 Myers Rd
Summerville, SC 29445 
Tuesday
8:00 AM – 5:00 PM
Wednesday
8:00 AM – 5:00 PM
Thursday
8:00 AM – 5:00 PM
953 Orangeburg Rd, Suite A
Summerville, SC 29483 
Tuesday
7:00 AM – 2:00 PM
Wednesday
12:00 PM – 7:00 PM
Thursday
8:00 AM – 5:00 PM
8626 Dorchester Rd, Suite 102
North Charleston, SC 29420
Tuesday
8:00 AM – 5:00 PM
Wednesday
7:00 AM – 4:00 PM
Thursday
7:00 AM – 4:00 PM
The Proof is in Our Patients
We LOVE Acuity! We have been using them for 6 years now between our three children and ourselves. All of the staff is amazing however Courtney is my children's favorite!! Thank y'all for all you do!
I love the friendly atmosphere the faculty is absolutely outstanding. When I enter this place on Myers Rd.when you walk in Kristina on the front desk is so sweet. Nicole always makes you feel so welcomed and eases your nerves. Dr. Andrew is the bomb dentist so friendly. Today was the first day Kevin assisted Dr. Andrews he was excellent at his job very polite. They make you feel right at home
My family loves this practice. Everyone is so welcoming and kind. My oldest has just started braces, and Jessica was so incredible while walking us through the whole process. The entire staff is amazing. Highly recommend this practice for anyone looking for a dental and orthodontic practice that cares about you as a patient and a person.
I've been on my ortho path for almost a year with invisalign and it has been nothing but GREAT care from the beginning. everyone has made me feel so comfortable and always keeps me very informed throughout the process and my appointments.10/10 recommend!!
10/10- Been going here for the 5+ years weve lived in the area! I go every six months for cleaning and recently started with invisalign on the orthodontics side. Everyone from the front office reception to the techs to the doctors are really kind and helpful. Special shout out to Haley (dental side) and Katie (ortho side) who were extra helpful in my most recent visits!
Kelliann M.
North Charleston
I absolutely loved my Invisalign consultation with Jessica! She made me super comfortable and answered all my questions. She was amazing at explaining my treatment plan and going over financial options! I recommend Acuity Orthodontics to anyone that is interested in Invisalign!